Careers
Meet the Buffalo Recruiting Team: Amanda Torrelli & Mackenzie Gotshall. Both ladies are extremely passionate about creating a strong Buffalo community and supporting the career development of interns and professionals.
*Pictured at Northwestern Mutual's 2014 Eastern Regional Meeting in New York City.
"Northwestern Mutual financial representatives are among the most satisfied in the industry."
                      J.D. Power & Associates - U.S. Financial Advisor Satisfaction Study, 2012
"50 Best Companies to Sell For Now"
                      Selling Power Magazine, Oct/Nov/Dec 2013
"#1 Ranking in National Customer Satisfaction"
                      American Customer Satisfaction Index
"Best Place to Work in the Insurance Industry"
                      Glassdoor.com's Best Places to Work survey, December 2013
"Training Top 125 Best Training programs"
                      Training Magazine, Jan/Feb 2014
 "Top 10 Independent Broker-Dealer as measured by total revenues by the following publications"
                       Financial Advisor Magazine, April 2014
                       Financial Planning Magazine, June 2014
                       Investment Advisor Magazine, June 2014
Top Ten Internship Program
"One of America's Top Ten Internships for Eighteen Consecutive Years"
                      Vault Guide to Internships 2014
We Are a Proud Partner of the National Collegiate Athletic Association (NCAA®)
Growth Opportunities
Our Buffalo District office is in a tremendous position for growth in the next three years. We are vividly focused on bringing the best financial guidance to the WNY community which makes us an exciting and developing firm to join. With our District Office ranging throughout the WNY, Jamestown, Bradford, PA, and Erie, PA areas, you will have the opportunity to create an unlimited client base both locally and nationally.
Your career as a Financial Representative is what you make of it. You can achieve personal satisfaction from a career that offers the chance for success personally, professionally and financially. Discover your purpose while helping others align their actions with their values.
---
TO APPLY ONLINE: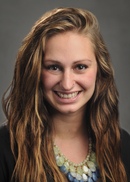 Christine Nicole Ortolano
Recruitment and Selection Coordinator
christine.ortolano@nm.com
Office 315-434-8800
My Networks:
Jessica T Brenon
Campus Recruiter
jessica.brenon@nm.com
Office 315-434-8800
My Networks: